I've got my tickets! We leave fly out of Charlotte on October 15th and will be back on November 5th. Three weeks in Amsterdam! I wasn't terribly excited until I bought the tickets. Now I can't wait! Going to Amsterdam always feels a bit like going home. But then when I'm there and deal with public transportation for three weeks, I'm ready to DRIVE MY CAR. A car without stick shift and traffic lanes that don't go anywhere. All the art and all the beauty make it worth it. Oh, and it's nice to see Ton's family. I guess I should throw that in, too. :-P
In all my excitement, I realized I had forgotten all about my pictures from last year's trip! I have started sorting them, finally. But it will take AGES to get them sorted and converted. But in the meantime, I leave you with the first batch.
Munttoren from Rembrandtplein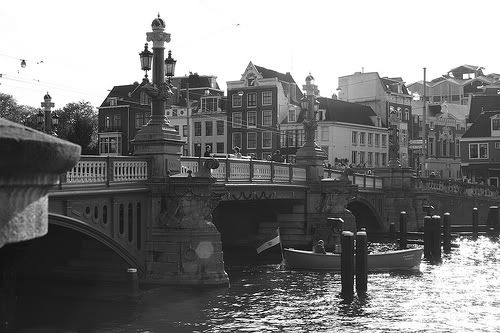 Afternoon at the Blauwbrug (Blue Bridge)



Flower market in Amstelveen



Fiddler in the Floor. Stadhuis Amsterdam.


The complete sets can be found here:
First Day. Amstelveen and the COBRA Museum
Second Day. Saturday Morning at Ton's old Football Clubhouse and later at Amsterdamsche Football Club to watch his old teammates. LOTS of football pictures here.
Muntplein, Rembrandtplein and Waterlooplein